Select the book of your choice:
James William Ritz was born on Dec 23, 1875 in Darke Co., Ohio to Jacob & Maria Ritz . He married Cora Ann Shewman on Oct 5, 1910. James died Feb 18, 1958 and is buried in West Manchester, Preble Co. Ohio

Cora Ann Shewman was born on Sep 28, 1889 in Preble Co., Ohio to Wilson & Sarah Shewman . She died Jun 24, 1979 and is buried in Dayton, Montgomery Co. Oh.

James was previously married to Sarah Elizabeth Guehring (or Gary)
James William Ritz & Cora Ann Shewman Ritz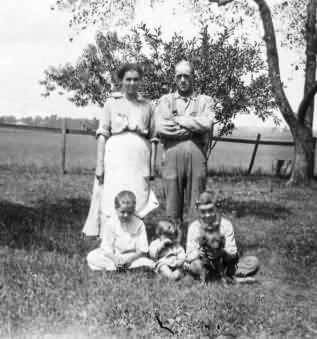 James and Cora had three children. James was a farmer and postman.
---
Raymond Edward
Born: 10 August 1910 Place: Preble Co., Ohio
Married: 19 August 1931 at: Newport, Campbell Co., Ky. to: Treva Elizabeth Bruner
Died: 1 Febuary 1966 buried at: Palestine, Darke Co., Ohio
Other Spouses: Alice Lenora Lindamood

---
Maria Alice
Born: 8 August 1913 Place: Preble Co., Ohio
Married: __________ at: __________ to: __________
Died: 23 Feb 1963 buried at: __________
Other Spouses: Maria secord husband was Mr. Slider

---
Naomi Grace
Born: 9 May 1920 Place: Preble Co., Ohio
Married: 14 April 1940 at: Dayton, Ohio to: Paul Albert Warner
Died: __________ buried at: __________

---